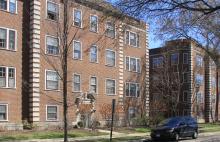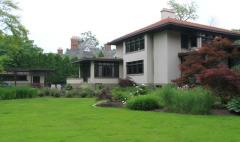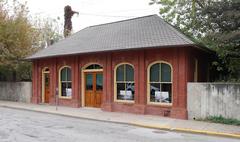 Log House Assessment and Repairs

Naper Settlement, Naperville, IL

2010

Condition assessment and exterior repairs of an 1843 log house moved to the Naper Settlement historic site in 1978.  It is now used as a living history exhibit of Illinois frontier life.  The assessment documented existing conditions and noted recommendations for short and long term repairs.  Repairs included borate treatments to prevent moisture decay of several logs and mock ups of the daubing in several joints to evaluate possible mixes for future use.

Project completed as a consultant to Sullivan Preservation.  Von Dreele Freerksen was the general contractor.



Garage Repairs

Pleasant Maple Condo Association, Oak Park, IL

2011

Construction administration and owner representative services for a repair project to a concrete underground garage.  Portions of the concrete slab and ceiling were replaced and spot repairs made to deteriorated areas on columns and beams. 

Rockey Structures was the structural engineer. Zera Construction was the contractor.


Roger Brown Home and Studio

School of the Art Institute of Chicago, Chicago, IL

2011

Code analysis for the former home and studio of artist Roger Brown, which is now an archive of Brown's work and a museum as he left it on his death in 1997. The home and studio is located in a commercial storefront on Chicago's north side and is listed on the National Register of Historic Places.  Because Brown's living space is left exactly as he arranged his art collection, the code analysis posed several challenges in calculating occupancy and egress in order to preserve the historic interiors.  Two open-wood stairs also required creative recommendations for code compliance.

Code analysis services provided as a consultant to Tom Bassett-Dilley Architecture.


Window Restoration

Pleasant Maple Condo Association, Oak Park, IL

2012

Architectural services for the restoration and refurbishment of the building's historic wood windows.  Window exteriors were stripped, patched and painted and storm windows refurbished.  Unit owners also had the option to have the windows weather-stripped and refurbished from the interior.  The building was built in 1929 by architects Leichenko and Esser and is a contributing structure to the Ridgeland-Oak Park Historic District. 

This project was awarded a 2012 Oak Park Historic Preservation Award for restoration.

Historic Home & Window Restoration, Inc. was the contractor.


Fence Restoration

Pleasant Home Foundation, Oak Park, IL

2011

Owner representative services during the restoration of the historic iron fence surrounding Mills Park.  Mills Park is the former estate of John Farson's Pleasant Home, designed by George W. Maher in 1897.  The fence was added in 1901 and also designed by Maher.  The restoration was carried out by the Park District of Oak Park and included the removal of all fencing, off-site restoration and painting, restoration of the stone base and piers and two new park entrances.  Pleasant Home is a National Historic Landmark and Oak Park Historic Landmark.  It is operated and restored by the Pleasant Home Foundation in cooperation with the Park District. 

This project was awarded a 2012 Oak Park Historic Preservation Award for restoration.

Garapolo/Maynard was the architect and Terra Engineering the engineer. Midwest Fence and Restore Masonry were the contractors.


First United Methodist Church

Oak Park, IL

2012

A comprehensive condition assessment of the church, architectural services for restoration of the bell tower and ongoing consulting for various projects.  The church was designed in 1923 by Tallmadge and Watson in the Gothic Revival style and is an Oak Park Landmark. The condition assessment evaluated exterior masonry and roof conditions, interior conditions, a review of code and life-safety issues, and a review of the mechanical systems.  During the assessment, it was determined that the stone bell tower needed emergency repairs, which were completed in the fall of 2012.  The church continues to move forward on other recommendations in the report. 

Architectural Consulting Engineers provided mechanical engineering services. The bell tower restoration work was completed by Bulley & Andrews Construction.

Douglas Gilbert Architect is dedicated to working with historic buildings and resources of all types and sizes.  Our expertise extends to almost every aspect of renovating and restoring existing buildings, including: 


•

Building and facility assessments

•

Adaptive reuse

•

Interior renovations

•

Additions

•

Code compliance and handicap accessibility reviews

•

Restoration or reconstruction of historic features and materials